Product Overview
The (L02) model extends on the features provided in the entry level (ECL) unit. The LCD screen display on this entry pad allows 'Menu' options to be viewed and altered with ease.
The (L02) model is a (30) user based system.
User (1) & (2) are identified as the Managers.
(28) other access user codes can be registered.
A Super-Code is also assigned to this unit.
This code is an emergency override code that also enables you to reset the Manager Code. A factory reset procedure is also provided.
This procedure allows this unit to be reset to its original factory settings.
This unit is patented and Australian Made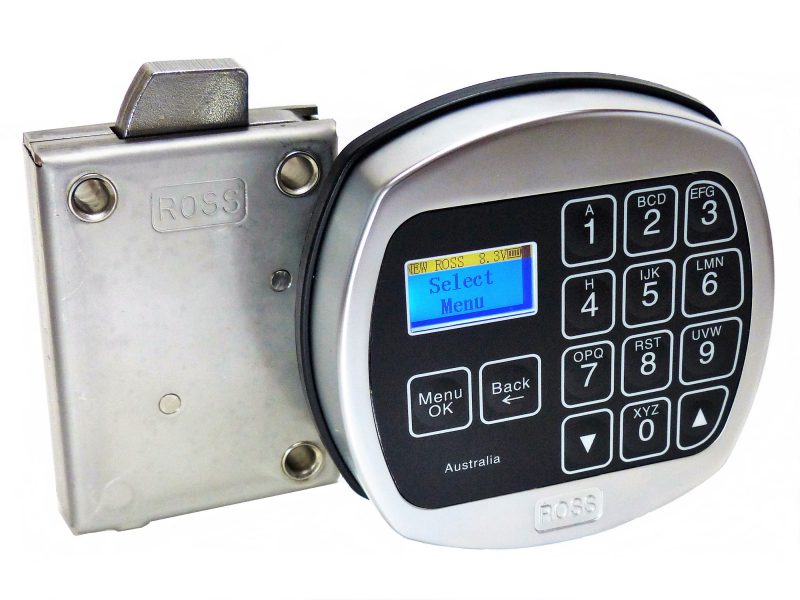 1000-L02 Safe Lock
Operating Features
Access is by the entry of a 6-digit code.
This model is distributed with a factory set User (1) Manager Code.
Functions include
A Manager Code set and reset function.
A User Code set and reset function.
A Disable/Enable user code function.
A Delete 'All' and single user function.
Operating Facilities include
Activating the Time-Delay facility.
Activating the Dual-Mode facility
Activating the Multi-Door option.
Features include
A (4) minute lock-out is activated when (4) consecutive invalid entry codes detected.
An automatic re-lock occurs in (4) seconds.
A low-battery warning feature is included.
Instructions must be completed in (15) seconds.
Technical Specifications
Retrofit to international footprint.
Powered by (1) standard 9v alkaline battery.
Static current is 50μA.
Power supply range is DC 4.5v – 12.0v.
Low battery voltage is 5.2v
Battery life range is about (1) year.
Working temperature range is -25˚c to +60˚c.
Working humidity is <90˚c.
Warranty is (18) months on the electronics.
Lock Options
A Key-Override option is also available.
This lock option utilises (6) pick-resistant levers with a restricted profile 'WAVE' key.
Please refer to the 'Safe Lock' brief for further information on this option.
A Dead-Bolt lock option is also available.
The model can also be supplied with a Dead-Bolt locking action. The key-override option is not available with this lock.
Please refer to the 'Dead-Bolt Lock' brief for further information on this option.
Entry Pad