Additional Lock Options
A 1000-Series Anti-Drill Plate, is hardened to 58Rc to a depth of 2.5mm.
A 1000-Series Anti-Drill Plate, is hardened to 58Rc to a depth of 6.0mm.
A 1000-Series Cable Plate.
350mm and 450mm extended cables.
Key-Override Considerations
(2) restricted profile keys are always included in the price of any keyed-to-differ key-override 1000-Series safe lock purchase.
RP40 restricted profile keys (40mm between-bitt-bow) of the key, is the default keylength supplied with the 1000-Series safe locks.
RP75, RP85, RP100, RP130, RP150 and RP180 are also available at no extra charge.
The RQK key option safe lock is priced on the basis that no keys have been provided at the time of purchase.
Keyed-Alike Lock Options
(2) only restricted profile keys are provided in the price for any keyed-alike lock set requested.
Additional keys to a keyed-alike lock set will need to be purchased separately.
The add-on lock options apply to all or any locks within the keyed-alike lock set request.
Keyed-Alike lock set request examples–
(1) x 1000-ECL/KA2 is (2) locks keyed to the same key-code (PAIR).
(1) x 1000-L02/KA3 is (3) locks keyed to the same key-code (TRIPLE).
(1) x 1000-L22/KAn is (n) locks keyed to the same key-code.
App Layout Sample
Restricted RQK Solution
Whilst both the ROSS restricted profile 'WAVE' key management systems have been successful for the emergency safe opening scenario, the (RQK) option provides a further management choice without compromising security.
With the knowledge these restricted profile keys are assembled, a joint agreement with a compliant service agency will allow these keys to be assembled on-site and dismantled once the key has served its purpose.
Solution Benefits
Considering the usual scenarios where a digital solution is unable to open the safe, history more than often has found the override key has been lost or is locked in the safe.
In many cases, time is most important. (RQK) allows a qualified technical locksmith to gain entry by assembling the 'Key-Cuts' onto the 'Key-Stem' under the security management protocol/platform put in place by the safe maker.
Kits can be purchased by compliant partners under the management controls of the safe maker requirements. These key kits are not made available to the general wholesale/trade marketplace.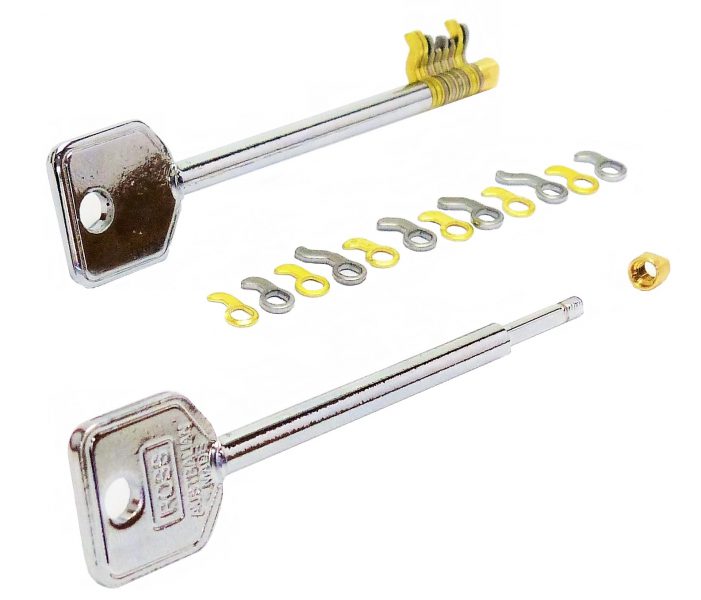 1000-RQK/RP40 Restricted Quick Key Kit